A battered wife is
helped
Together we're
Impacting the kingdom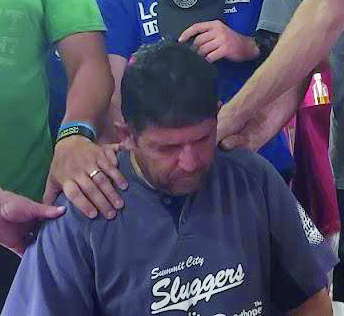 Whatever you did for one of the least of these brothers and sisters of mine, you did for me
Do you recall Jesus' parable in Matthew 25:37-40 when He said,
"Then the righteous will answer him, 'Lord, when did we see you hungry and feed you, or thirsty and give you something to drink? When did we see you a stranger and invite you in, or needing clothes and clothe you? When did we see you sick or in prison and go to visit you?'
The King will reply, 'Truly I tell you, whatever you did for one of the least of these brothers and sisters of mine, you did for me.'"
What if "one of the least of these" is a battered wife, who knocks on your door for help?
One of LoveServes' mission teams recently had an opportunity to hear a story from Pastor Geuri Antonio Diaz Abreu (aka Pastor Tony) about how his church members are living out Jesus' teaching in this parable.
A member of the community, Rosalie* came to Pastor Tony late one afternoon, seeking help. She had been beaten by her husband; it was evident that this was not the first time.
Sitting in the small church in the rural area of Jarabacoa, in the Dominican Republic (D.R.), Rosalie* told Pastor Tony the tearful truth about the nightmare she was living at home. Pastor Tony knows that Rosalie represents one of the many families in his community and throughout the D.R. that are suffering through domestic violence.
Pastor Tony called on several women from the church to come and tend to Rosalie. Meanwhile, he and four men from the church went to Rosalie's home to pay a visit to her husband, Pedro*. They told Pedro they were there to represent Rosalie because she is a member of God's Church family. They said they knew he had beaten her and that it had to stop today. They told Pedro if he ever beat his wife again, they would return, but with 50 men who would be there to represent Rosalie.
Then, Pastor Tony sat with Pedro counseling and praying with him long into the night. The men from the church began to disciple Pedro and explain to him the love, grace and forgiveness that Jesus wanted to offer him. Praise be to God that Pedro accepted Jesus as his Lord and Savior! He and Rosalie began counseling with Pastor Tony and are now active members of the church.
Pastor Tony's church is one of 3,072 churches that have completed LoveServes' training, and understand what it means to be the church of their community. Mentored by LoveServes' Coach Jose Luciano, Pastor Tony equipped his church members with an understanding that God has strategically placed their church to help transform their community for Christ. Pastor Tony equipped his church members to actively love their neighbors in practical ways.
Imagine if all churches were living on mission like Pastor Tony's church? That is our Vision! Will you help us make that happen? Your gift to LoveServes will help to train pastors who can in turn equip the church members to do "…the works of service (aka loving their neighbors in practical ways), so that the body of Christ may be built up (Ephesians 4:12)." There are many more Rosalie's who need a church that is willing to help. There are many more "Pedro's" that need men of the church to disciple them and lovingly hold them accountable. Your gift can have that type of impact. Your gift can have an eternal return on investment (ROI).
WE NEED YOU! ‣
We need you and other like-minded believers who want to experience what God is doing in the Dominican Republic, Guatemala, the United States and beyond. Our vision for the ministry of LoveServes is His Vision….we are taking His message to all nations (Matthew 28:19-20). Come along! Join us and be part of something larger than life!

Our Vision & Mission
Our Vision is to develop healthy churches in all nations, equipping God's people to make disciples who make disciples (Matthew 28:19). Our Mission is to walk alongside pastors, coaching them to develop a healthy Church that equips its members to love God and love their neighbors. (Ephesians 4:12)
SIGN UP FOR OUR NEWLETTER
Never miss an update. Sign up to receive monthly stories, updates and, resources from LoveServes.
Stay Connected and download our app
we'd love to hear from you!
Address
3310 US Hwy 301 North
Ellenton, Fl 34222
AAVI, Inc. DBA LoveServes International is a registered 501(c)3 nonprofit organization. All donations are tax deductible in full or in part. LoveServes International is a GuideStar Platinum Participant EIN: 65-0406418